Druid's Dream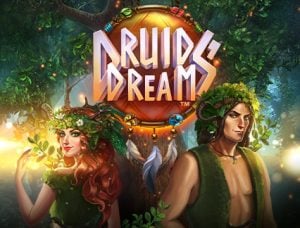 Druid's Dream is not your average slot machine, this game is here to make you feel the magic. The reels are set amidst a mystical forest surrounded by naelwen trees that will definitely take your breath away. The music is charming and it just fits right in with the theme.
This game is a standard 5-reel, 3-row slot machine with 40 paylines, that's right, 40 ways to win! And, it offers an extensive betting range, allowing players to bet anywhere from 20 cents to a maximum of $400 per spin. If you want to go all in and bet $400 per spin, make sure to have some druid magic up your sleeve.
That being said, Druid's Dream features medium-high volatility, offering small frequent wins but larger prizes with a bit of patience required. So if you're looking for a quick cash grab this game may be a bit challenging for you, but hey, the higher the risk the greater the reward, right?
The game offers a Respins function, which activates when a wild and scatter symbols appear on the same reel, extending the gameplay and increasing win opportunities. Keep a close eye on the reels and hope for the best because this could be your chance to hit the jackpot!
All in all, Druid's Dream is a fun and enchanting experience with a possibility of a big payout. Give it a try and maybe you'll be chanting spells of joy and excitement after a big win!
Symbols and Paylines
Druid's Dream is a perfect slot game for those who love everything mystical and magical, especially when it comes to Celtic mythology. The game has a beautifully designed interface that will transport you to a world filled with magical stones of various colors, brave wolves, wise owls, and two mystical instruments. But that's not all, the game also includes adorable white wolves, which hold the highest value among all symbols, and they have the power to make even the most ferocious players go "aww".
What sets this game apart from others is the 40-payline feature and the absence of the typical playing card symbols. In other words, you won't have to worry about low-value symbols ruining your chances of winning. Instead, you can focus on the stunningly designed symbols that can potentially lead you to a massive payout.
The wild symbol, represented by the word "wild," can appear on reels 1, 4, and 5 and can also appear stacked on reels 2 and 4. Who doesn't love a good stack of wilds, after all? And not only that, but Druid's Dream has two scatter symbols represented by a male and female druid, which not only function as wilds but also activate the Respins function when they appear on the same reel as the wild symbol.
It seems like this game has everything one could wish for in a slot game- cute little animals, mystical symbols, 40 paylines, stacked wilds, and re-spins. All in all, Druid's Dream is definitely worth giving a spin, or in this case, a howl or a hoot. So, grab your lucky charm and get ready to enter the world of magic, luck, and excitement.
Volatility
Druid's Dream has a medium-high volatility, which makes the game very interesting. It's like playing a slot machine in a haunted forest—it's both thrilling and a bit scary. You never know what kind of magic might take hold of the game and reward you with a big win.
Now, don't expect to win big every time you play. You may have to be patient and play for a while before you hit the jackpot. But trust us, it's worth the wait! It's like waiting for your favorite pizza to arrive—good things come to those who wait.
But don't worry, the game offers frequent small wins to keep you engaged. It's like getting a bag of jelly beans that offers continuous satisfaction. The jackpot in this game is set at a whopping 200 times the amount of your bet. That's like winning the lottery jackpot… only it's more likely to happen. So go ahead, give it a spin and see if the Druids will bless you.
The Druid'S Dream Graphics And Design
Hold your breath and prepare to be transported into a mystical world of magic with Druid's Dream! This beautifully designed game boasts of stunning graphics that will leave you enchanted by the world of Celtic mythology. And if you're a nature lover, then you're going to enjoy the shades of green that dominate the screen.
The game symbols are connected to nature and Celtic mythology, providing a gaming experience that breathes a new life into the stories of the ancient druids. The details are intricately woven into the game design making it a visual treat. The depiction of druids as magical creatures adds to the enchantment, making the game stand out from regular casino games.
If you're looking for a way to escape from the mundane, then Druid's Dream is your ideal ticket. The game engages all your senses with an immersive world that you can't help but fall in love with. The graphics take you on a journey of discovery, making you feel like you're exploring a magical wooded world. Kudos to the game developers for creating such an immersive world!
Return to Player (RTP)
Are you looking for a good chance to make some money while enjoying an exciting casino game? Then you should definitely check out Druids Dream! The game has a Return to Player (RTP) percentage of 96%, which is an average figure in the world of slot games. But don't worry, with a bit of luck, you could still win big!
Imagine the satisfaction of winning some cash while also having fun playing a game with gorgeous graphics and an enchanted forest setting! The RTP percentage means that you can expect to receive $0.96 for every $1 you bet on the slot machine. That's almost like getting a discount on your bets! With an RTP percentage like that, it's more than worth the risk of trying your luck.
So if you're in need of a break from your daily routine, why not take Druids Dream for a spin? You won't regret it, and who knows? You might just get a dream payoff and become the master of the enchanted forest!
FAQ
What is the theme of Druid's Dream?
The game is themed around Celtic mythology, featuring druids, woodland creatures, and magical symbols.
How many reels and rows are there in Druid's Dream?
This game has five reels and three rows.
What is the volatility of Druid's Dream?
The game has medium-high volatility, meaning players can expect small and frequent wins with larger prizes requiring a bit of patience.
What is the return to player percentage of Druid's Dream?
The game has an RTP of 96% which is average compared to most slot games.
What is the minimum and maximum bet range in Druid's Dream?
The minimum bet is only 20 cents, and the maximum bet is an impressive $400.
Which symbols are featured in Druid's Dream?
The game features various symbols connected to nature, wolves, owls, two musical instruments, and white wolves which hold the highest value among all symbols.
What is the wild symbol in Druid's Dream?
The wild symbol is represented by the word 'wild' itself, appearing only on reels 1, 4, and 5, while it can appear stacked on reels 2 and 4.
What happens when both the wild and scatter symbols appear on the same reel?
The Respins function will activate, extending gameplay and providing more opportunities to win big.
What we like
Extensive betting range
Respins function for increased win opportunities
Stunning graphics and immersive design
Average RTP percentage
What we don't like
Medium-high volatility may require patience for larger wins
RTP percentage is average compared to other slot games