Dragon Riches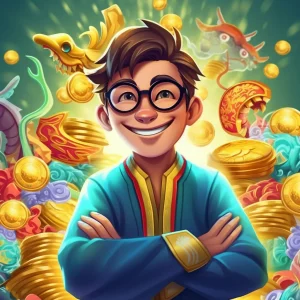 Get ready to immerse yourself in the rich and vibrant world of Dragons with the newest addition to the world of online slot games – Dragon Riches! The Chinese theme of this game is absolutely captivating, with visually stunning graphics and enchanting sound effects that transport players straight into the heart of China.
The design of the game is impeccable and perfectly matches the rich Chinese culture. The red inlaid cloth for the backdrop, inspired by Chinese architecture, is sure to catch your attention immediately. Moreover, the golden amaranth columns and majestic oriental dragons at either side of the screen give the game an authentic and traditional touch.
However, the real magic lies in the symbols of the game. Each one of them is designed with intricate detail and represents different Chinese lucky charms. From the traditional coins and paper lanterns to the legendary God of Wealth – Caishen, the game's symbols transport you to the land of dragons and Asian culture. Who knows, with the god of wealth on your side, maybe you'll strike gold with Dragon Riches!
This game is an undeniable feast for the eyes, with its unique and interesting visuals that set it apart from other online slot games. So, what are you waiting for? Grab some fortune cookies, get comfortable and jump into the world of Dragon Riches, where dragons bring good luck and fortunes await you!
Symbolism and Lucky Charms
Dragon Riches is one of those slot games that make you feel lucky just by looking at the symbols on the reels. The developers went all-in with Chinese lucky charms, and every spin feels like a mini-celebration.
Of all the symbols, the golden dragon is the one that takes the cake. Not only is it beautiful and majestic, but it also plays a key role in the gameplay by allowing you to make different winning combinations with other symbols.
And what about those playing card symbols, you ask? Fear not, they too have been given a cultural twist. Instead of the usual boring letters and numbers, they are represented with the initials A, K, Q, J, and 10 in a font that recalls Chinese ideograms. It's a small touch, but it adds to the game's overall charm.
All in all, Dragon Riches is a slot game that not only brings you the chance to win big, but also to immerse yourself in a fascinating culture. So, put on your lucky charm and give it a spin!
Background Music
Dragon Riches is one of those online slots that knows how to set the mood right. The moment you log in and start playing, you'll find yourself transported to the Far East with its oriental-style graphics and relaxing background music. Speaking of which, let's talk about the background music in more detail.
Unlike other slots that might blast you with loud and cheesy sounds, Dragon Riches' background music is the kind that you can actually listen to for hours on end. It's calming, tranquil and genuinely beautiful. The flute, strings, and other instruments that make up the soundtrack are right on point, and they reflect the game's Asian-inspired theme perfectly.
They're 100% fitting and genuinely funny. Whenever you win something, you'll hear dragons breathe fire, coins jingling and other amusing sounds. It's a great way to make the whole gaming experience way more enjoyable and less stressful. Not to mention that it will make you laugh – and who doesn't love a good laugh, right?
Special Features That Will Make Your Spins Shine (Free Spins, Bonus Game, Gold Symbols)
Are you ready to have a scorching time? Dragon Riches is a slot game that combines the best of tradition and innovation. With its 5×3 grid layout and 243 paylines, it offers a wide range of winning combinations, even though the paytable values might not be as high as you would like them to be.
When you play Dragon Riches, you have access to both a free spins mode and a bonus game. They're both triggered by a dragon appearing on the screen. Find enough dragons in a single spin, and you're in for a treat – the dragon will lead you to the bonus game or the free spins round where you could potentially win big.
But that's not all. Dragon Riches is also home to a unique feature: the golden symbols. Every symbol on the game grid has the potential to turn gold before each spin. You can choose how many symbols you want to transform into gold, from one to five. Although it comes at a price, the rewards of having a golden symbol on your screen are worth your investment. The golden symbols allow for huge wins with a high probability of hitting the jackpot, so it's worth taking a chance.
If you're feeling lucky, you might as well go all out and hit the maximum of five symbols transformed into a golden hue. The feeling of securing a winning combination with even one of these golden symbols is electrifying! However, do keep in mind that it also comes at a cost – a significantly higher cost to be precise.
All in all, Dragon Riches is a game that has something for everyone. Whether you're a traditionalist or a fan of the latest and greatest features, the game has you covered. With its free spins mode, bonus game, and golden symbols, there's never a dull moment when you're playing Dragon Riches. Oh, and did we mention the cute little dragons that lead you to greatness? They're a true highlight of the game. Playing Dragon Riches will leave you feeling as though you've won big – even if luck isn't in your favor that day.
How Dragon Riches Stands Out from Other Oriental-Themed Slots
When it comes to oriental-themed slots, the market is pretty saturated with options. We've got 1421 Voyages of Zheng, Feng Fu, 108 Heroes Multiplier, Asian Beauty, Chinese Kitchen, and the list goes on. But what sets Dragon Riches apart from the rest of the pack?
For starters, the visuals in this game are absolutely stunning. The attention to detail is impressive, and the dragon imagery is both beautiful and fierce. It's safe to say this game is on another level when it comes to graphics.
But Dragon Riches isn't just a pretty face. It also has an innovative feature that sets it apart even further: the five golden symbols. These symbols are more than just pretty trinkets; they're actually tied to the game's progressive jackpot. If you're able to collect all five, you could be in for a massive payout.
Comparatively, the other oriental slots on the market just don't have that same wow factor. Sure, they may have decent graphics and gameplay, but Dragon Riches is in a league of its own. It's the slot game equivalent of a dragon breathing fire, while the other slots are just little geishas in comparison.
FAQ
What is Dragon Riches?
Dragon Riches is an online slot game with an Oriental theme that features symbols of different Chinese lucky charms and dragons as key symbols.
What is the gameplay of Dragon Riches?
Dragon Riches features a 5×3 grid that displays 15 symbols per spin with 243 paylines. There are free spins and a bonus game, but the real innovation lies in transforming symbols into gold for huge wins.
How do I activate the bonus game on Dragon Riches?
To activate the bonus game on Dragon Riches, it's necessary to find enough dragons in a single spin, and then the bonus game will be triggered.
Are there other online slots with Oriental themes?
Yes, there are many other Oriental-themed online slots, such as 1421 Voyages of Zheng, Feng Fu, 108 Heroes Multiplier, Asian Beauty, and Chinese Kitchen.
What do the symbols in Dragon Riches stand for?
The symbols in Dragon Riches are representations of different Chinese lucky charms such as coins, paper lanterns, rings, and yuanbao ingots, as well as a figure from the Taoist religion, Caishen, the god of wealth.
What is the impact of transforming symbols into gold?
Transforming symbols into gold in Dragon Riches allows for huge wins with the combinations involving it, but significantly increases the cost of the spin.
What is the graphics and music like in Dragon Riches?
The graphics of Dragon Riches complements the Chinese setting of the game, along with the presence of two oriental dragons on either side. The background music is pleasant and in perfect harmony with the setting.
What type of font is used in Dragon Riches?
Chinese ideograms are used as the font for the playing cards, represented in the initials A, K, Q, J, and 10.
What we like
Interesting and unique visuals
Chinese lucky charms as symbols
Oriental background music
Free spins and bonus game
What we don't like
Value of winning combinations not always high
Cost increases with golden symbols