Deadwood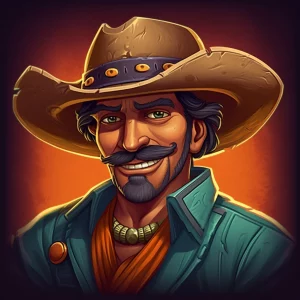 Let's dive in and explore the gameplay features of Deadwood, the slot game that engages players in wild west adventure. With 5 reels and 576 ways to win, players can expect an exciting and rewarding gaming experience.
One of the most exciting features of Deadwood is the Hunter xNudge Wilds. These wilds can nudge to cover the entire reel and come with a 3x multiplier. Getting these wilds on the reels can be a real game changer, potentially leading to big wins.
Adding to the excitement is the Shoot Out feature where low-value symbols turn into wilds, leading to higher winnings. Deadwood also offers 3 Free Spins features, each with their own unique twist. During these free spins rounds, the Hunter xNudge Wilds and Shoot Out features remain active, increasing the opportunities for big wins.
But the fun doesn't stop there. In the Shoot Out Free Spins feature, Sheriff badges lock in place, guaranteeing the triggering of the Shoot Out feature. It's like having the bad guys in your own crosshairs, and you can be the hero of the town.
Overall, Deadwood offers a lot of fun, excitement, and opportunities to win big. So saddle up, partner, and get ready for the ride of your life!
Graphics
Deadwood is a Wild West themed slot that will transport you to the dusty streets of the infamous town. The graphics are detailed, and the metal frame surrounding the reels adds a nice touch of authenticity. It's like you're right there in the middle of all the action.
The three gunslingers who accompany you on your quest each have their own unique personalities, and watching them react to each spin is a real treat. Keep an eye out for the different symbols on the reels, as they all evoke different aspects of the wild west era. From brass knuckles to whiskey bottles, you'll be reminded of the gritty and rough landscape of the old west.
Overall, the graphics in Deadwood are top-notch, making it an immersive experience for anyone who loves westerns. The attention to detail is commendable, and you won't be disappointed with the visual aspect of this game.
Volatility and RTP
Are you ready to take on the Wild West? You better saddle up, partner, because the Deadwood slot game is not for the faint of heart. With a maximum volatility rating of 10/10, you can expect this game to be a wild ride!
While the high volatility may seem daunting at first, it also means that the potential rewards are huge. One lucky spin could result in a jackpot that will have you shouting "yeehaw" all the way to the bank. And with an RTP range of 96.02 – 96.03%, you can rest assured that you're not just throwing your money away.
But beware, cowboy, with great risk comes the potential for great reward. So if you're feeling brave enough to take on the Wild West and the high volatility of Deadwood, grab your hat and get spinning.
Maximum Win
Let's get down to brass tacks – we know why you're really here. You want to know how much you could potentially win playing Deadwood. Well, let me tell you – the maximum win is a whopping 13,950x your bet! That's enough to make even the most stoic of cowboys giddy with excitement.
Just imagine, you could be rolling in riches, swimming in gold coins, and living like a true outlaw on the run. Of course, the odds of hitting the maximum win are about as slim as a snake's waistline, but hey, a cowboy can dream, can't he?
Even if you don't hit the max, there are still plenty of opportunities to strike it rich. With its high volatility and bonus features, the Deadwood slot is bound to keep you entertained – and hopefully wealthy – for hours on end.
So saddle up, partner, and get ready to chase that big win. Who knows, maybe Lady Luck will wink at you and you'll come out on top. And if not, well, at least you had a good time trying. That's what gambling's all about, right?
Experience the Wild Wild West with Deadwood Slot Game
Are you ready to take a trip to the old Wild West? Well, look no further than Deadwood, the thrilling slot game set in the historic town of Deadwood. With its stunning graphics and immersive gameplay, Deadwood offers a unique and exciting gaming experience.
Get lost in the dusty roads of this small frontier town and join the three bounty hunters as they track down the most notorious outlaws of the Wild West. Keep your eyes peeled for the xNudge Wilds feature, which can add a ton of excitement to your gaming experience.
But that's not all – Deadwood also offers a range of Free Spins features with progressive multipliers and other exciting modifiers, which can help you hit the jackpot. The possibilities are endless!
So what are you waiting for? Saddle up and get ready for a wild ride through the Wild West with Deadwood! This game is perfect for anyone looking for excitement and adventure, or just a good laugh. Let's see if you've got what it takes to catch the most wanted outlaws in Deadwood.
Bonus Features
The Deadwood slot game has more bonus features than a Western movie has saloon brawls! And we're not just horsin' around, partner. The Hunter xNudge Wild feature is a real hoot because the wild bounty hunter pushes to become fully visible and increases the multiplier on each spin. Yeehaw! It's like having a loyal companion by your side, ready to lend a hand. Or a paw.
And just when you thought you'd seen it all, Sheriff badges hop in the saddle to trigger the Shoot Out feature! Those low-value symbols will be shaking like a cowpoke in a dust storm when they turn into wilds. It's like a stampede of winning combinations streaming across your screen.
The Deadwood slot game's got not one, not two, but THREE Free Spin features. Howdy, partner, that's a whole heap of chances to rustle up some big-time winnings. And with one of those bonanza features, the Hunter xNudge Wild feature is triggered on every free spin. You'll feel like you've struck gold in them thar hills!
Now saddle up, because we're about to ride into the Gunslinger Spins feature. That multiplier's gonna be increasing faster than a rabbit on a date! The Gunslinger Spins has the potential to pay out big, so gather your posse and settle in for the long ride.
But the best feature of them all has to be the Shoot Out Free Spins feature. It's as epic as a showdown at high noon! The Sheriff badges are locked in place so that the Shoot Out feature applies on every Free Spin. You'll be shooting through those reels like a seasoned sharpshooter, blasting away low-value symbols left and right.
So if you're looking for an all-around rootin' tootin' good time, Deadwood's bonus features are sure to deliver. It's the perfect slot game for cowboy boots, Stetson hats, and big-time winnings.
Hunter xNudge Wilds
Are you tired of feeling like a loser in your favorite casino slot games? Look no further than Deadwood and its Hunter xNudge Wild feature. With this exciting feature, the wild bounty hunter will push to become fully visible, increasing the multiplier on each spin. It's almost like having a personal cheerleader rooting for you!
Not only can the Hunter xNudge Wild feature lead to some big wins, but it also adds an extra layer of fun to the game. You never know what kind of wacky hijinks the bounty hunter will get up to next.
So give the Hunter xNudge Wild feature a try in Deadwood. Your wallet (and your funny bone) will thank you.
Lock and Load for Shoot Out Free Spins!
If you want to experience the wildest ride in Deadwood, then look no further than the Shoot Out Free Spins. This feature is so much fun, you'll feel like a cowboy on a cattle drive!
During the Shoot Out Free Spins, you'll see sheriff badges lock in place, ready for the big showdown. Every free spin results in a virtual shootout between the reels, and it's up to you to come out on top!
The best part about this feature is that it can lead to some seriously big wins. If you think you have the grit to take on the wild west, then saddle up and give the Shoot Out Free Spins a spin!
But watch out, partner. Those varmints in Deadwood are some tough hombres. You better bring your A-game if you want to beat 'em to the draw! This feature is no place for slowpokes or city slickers who can't back up their bravado.
FAQ
What is Deadwood?
Deadwood is a Wild West themed slot game with 5 reels and 576 ways to win, offering a maximum reward of 13,950 times your bet.
What are the minimum and maximum bets in Deadwood?
Deadwood can be played starting at 20 cents per spin and goes up to 100 credits per spin.
What are the main features of Deadwood?
Deadwood features Hunters xNudge Wild, Shoot Out feature, and 3 different Free Spins features with increasing multipliers and other modifiers.
What is Hunters xNudge Wild feature?
Hunters xNudge Wild feature sees the wild bounty hunter push to become fully visible and increase the multiplier on each spin.
What is Shoot Out feature?
Shoot Out feature is triggered when the Sheriff badge symbol appears on both reels 1 and 5 in the base game. All low-value symbols on the 3 middle reels will turn into Wild symbols.
How do I trigger Free Spins in Deadwood?
Scatter symbols trigger Free Spins in Deadwood. Landing 3 of them simultaneously gives you the chance to choose between 2 and 8 Free Spins.
What is Hunter Spins Feature in Deadwood?
Hunter Spins Feature awards 8 spins to the hunter and triggers the Hunter xNudge Wild feature with multipliers, at least 1 Hunter Wild is guaranteed to land on every Free Spin.
What is Gunslinger Spins feature in Deadwood?
Gunslinger Spins feature awards 8 gun spins and is a more volatile option. The unlimited win multiplier remains for the entire feature, and any landing with a Hunter Wild symbol triggers the unlimited win multiplier. Every landing with the Sheriff badge gives you 1 extra Free Spin.
What we like
Exciting gameplay features like Hunter xNudge Wilds and Shoot Out Free Spins
Stunning Wild West graphics that immerse players in the theme
High volatility and RTP range for thrill-seeking players
Massive maximum win of 13,950x your bet
What we don't like
Limited number of bonus features compared to other slot games
High volatility may not appeal to players looking for more frequent wins