Dazzling Diamonds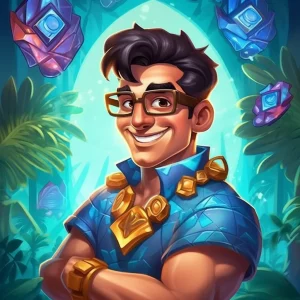 Are you ready to sparkle and shine with Dazzling Diamonds? This game offers players a simple yet engaging experience that can keep you glued to your screen for hours on end. With a traditional five-reel, three-row slot structure, and ten pay lines, you'll feel right at home with this classic slot game.
But don't let the simplicity fool you. This slot machine offers a massive jackpot of 100,000 Dollars! That's enough diamonds to fill your pockets! And speaking of diamonds, the symbols in this game are all glitz and glamour, representing the ultimate in luxury. Just seeing them spin across your screen can make you feel like a high roller!
Watch out for the Scatter symbol, represented by a golden clock. If you see it appear on the reels at least three times, you'll be in for some extraordinary winnings! But don't get too disappointed by the lack of a Wild symbol. There are no jokers in this game, but with its straightforward gameplay, you won't even miss them!
Winning is simple. All you need to do is align identical symbols on neighboring reels, starting from the left going towards the right. But the fun doesn't stop there! Want to try something even more daring? Access the Gamble function after a win, and you could double your prize. Just be careful not to gamble away all your winnings!
Overall, Dazzling Diamonds is an excellent choice for those who love traditional slot machines, as well as anyone who wants to add a little glamour to their life. Give it a spin today and find out why diamonds truly are a gambler's best friend!
Graphics and Sound
Are you tired of playing slot games that have confusing designs, neon graphics that induce migraines, and sound effects that would make a vuvuzela sound like a lullaby? Look no further than Dazzling Diamonds! This game features a simple and crisp design, sticking to the tradition of video lottery terminals. The screen is filled with diamonds and other precious objects, making the game easy to focus on without too many distractions. And who doesn't love sparkly things?! It's like watching a cute animal video on YouTube, but better.
Speaking of YouTube, this game's graphics are bright and colorful. It's like watching a teenage girl's makeup tutorial, but without the mess. With a highlights effect appearing at random intervals, it's like watching a slow-motion video of sprinkles being put on an ice cream cone. It's an interesting addition that keeps things fresh and exciting.
As for sound effects, they're pretty basic. But basic doesn't mean bad, right? Just like a plain vanilla ice cream cone can still be delicious, the simple background music in this game doesn't distract the player from the game itself. It's like having a nice conversation with a friend while listening to elevator music in the background. Who doesn't love that?
Payout Potential
Are you ready to be dazzled with a payout potential worth 100,000 Dollars? That's right, the Dazzling Diamonds slot game offers a jackpot that will make you feel richer than Scrooge McDuck swimming in his money vault! This game has a limited range of bets, but trust us, the rewards are significant. Don't believe us? Let's take a closer look.
Starting with the lower-value symbols – you'll be sure to notice the dazzling gems that payout up to 4 Dollars for the green and red ones, and up to 3 Dollars for the blue and pink ones. The ring and stack of banknotes and coins share the same value and offer a maximum prize of 10 Dollars for the lucky player. However, it's safe to say that the highlight of this game is the highest-paying symbol – the diamond. If you're fortunate enough to land this on all five reels, you could walk away with a prize worth 100 Dollars! That's one sparkling win.
The great thing about Dazzling Diamonds is that players can adjust their bets according to their preferences, and still have the opportunity to win significant amounts. So, whether you feel like betting small or going all in, you know you're in for a chance to win some serious bling. Just make sure it doesn't go to your head, or you'll be shining bright like a diamond all night long!
Accessibility and Compatibility
Are you tired of having to put on pants and leave your house just to play a slot game? Say no more! Dazzling Diamonds is accessible via online casinos, so you can play from the comfort of your own home (or your underwear, we won't judge).
And the convenience doesn't stop there. This game is compatible with various operating systems and can be accessed on both desktop and mobile devices. So, whether you're an Apple user or you prefer Android, you can enjoy the thrill of Dazzling Diamonds.
But let's be real, sometimes mobile games can be buggy and frustrating to navigate. Luckily, that's not the case with this game. Thanks to Novomatic's HTML5 technology, the game runs smoothly and without issues. So, you can keep spinning those reels without any interruptions (except for maybe your roommate asking you to turn down the volume).
The simplicity of the game makes it easy for new players to understand and enjoy, while veterans will appreciate the traditional gameplay without any gimmicks or distractions. It's a win-win situation for everyone involved!
Shine Bright Like a Dazzling Diamond
Oh, Dazzling Diamonds, how you sparkle and shine! This slot game is not only easy on the eyes with its crisp design, but it's also easy on the wallet with its significant payouts. I mean, who doesn't love flashing lights and the sound of jingling coins?
For traditional slot players, this game is like a breath of fresh air. It's straightforward, lacks complicated rules, and doesn't trick you with gimmicks. Finally, a slot game that knows its place and doesn't try too hard to be something it's not.
But don't let the simplicity fool you. With a jackpot of 100,000 Dollars, Dazzling Diamonds can make you feel like an actual diamond in the rough. Perfect for those busy bodies who can't sit still for too long.
All in all, Dazzling Diamonds is the epitome of a classic slot game. It's simple, yet effective. Plus, it's an excellent option for new players who are starting with online slots. So, shine bright like a diamond while you play Dazzling Diamonds!
FAQ
What is the theme of Dazzling Diamonds?
The theme of Dazzling Diamonds is precious gems, particularly diamonds.
What is the structure and gameplay of Dazzling Diamonds?
Dazzling Diamonds features the traditional structure of a five-reel, three-row slot game with only ten pay lines. Winners are determined by an alignment of identical symbols on adjacent reels, starting from left to right.
What is the value of the bets in Dazzling Diamonds?
Players can make bets as small as 20 cents and as large as 20 Dollars, with a value of the token ranging from 2 cents to 2 Dollars.
What is the jackpot in Dazzling Diamonds?
Dazzling Diamonds offers a jackpot of 100,000 Dollars.
What is the special symbol in Dazzling Diamonds?
The special symbol in Dazzling Diamonds is the Scatter, represented by a golden clock. It offers extra winnings when it appears on the reels at least three times.
Is there a Wild symbol in Dazzling Diamonds?
No, there is no Wild symbol in Dazzling Diamonds.
What is the Gamble function in Dazzling Diamonds?
Players can access the Gamble function following a win, which provides an opportunity to double their prize.
What are the regular symbols and their values in Dazzling Diamonds?
The regular symbols are all thematically related gems, with the diamond being the highest-paying symbol.
What we like
Simple and intuitive gameplay
Impressive 100,000 Dollar jackpot
Crisp design without distractions
Accessible on desktop and mobile devices
What we don't like
Lack of a Wild symbol
Basic sound effects