Dark Vortex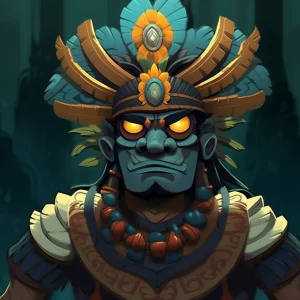 Dark Vortex by Yggdrasil Gaming is a slot game that promises to take players on a thrilling ride of dark delights and demonic wins. The game offers a devilishly different gameplay experience than the usual boring slot machines out there. With its 5-reel design and 243 to 3,125 ways to win, players have more opportunities than ever to win big.
Your job is to unleash the power of the vortex and summon the luck you need to win. With the stacked wild and high pay symbols, this game gives players an edge by offering extra chances for success. The game is playable on a 5×5 grid with 3,125 ways to win and wild stacks appearing on the three middle reels for huge payouts.
But beware, the game's demonic theme might make your inner bad side come out to play. And if you lose track of time and end up playing this game for too long, you might even start feeling like you're part of the underworld. But who cares? It's all in good fun, isn't it?
And if you're lucky enough to trigger the free spins mode, the game offers a win of up to 7,318 times your bet on every spin! That's a huge number and might make you feel like you've sold your soul to the devil. But as they say, if you have the luck on your side, you can conquer it all, no matter what demons stand in your way.
In conclusion, Dark Vortex is a unique and exciting game, with a beautifully mysterious design that is sure to pull you into the dark side, in a fun way of course. The gameplay mechanics offer the players the tools to stack their wins and multiply their earnings, all while enjoying a demonic world of hellish fun. So why wait? Jump right in and unleash the darkness!
Get Ready to Spin: Special Features of Dark Vortex
Dark Vortex might just be the online slot game you've been looking for if you're in the mood for unique and exciting features. With the Vortex Reels and Vortex Free Spins special features, Dark Vortex is the perfect game when you want to mix things up.
The Vortex Reels feature is activated when the Vortex symbol appears on the reels. This special symbol opens up the Vortex Reels feature, which allows you to spin the Vortex to reveal prizes. Additionally, when you hit the adjacent cursed relic symbols to the vortex, the passage will expand to give you even more chances to win. Who knew cursed relics could be so lucrative?
The Vortex Free Spins feature is triggered when the Vortex spins come to a close. During these free spins, players will collect pink and blue orbs. Each pink orb collected adds 1 extra wild to the 3 middle reels, increasing your chances of winning even more. On the other hand, every blue orb collected gives you an extra free spin, which is always appreciated.
All in all, Dark Vortex holds its own when it comes to special features. If you're a gambler looking for a little extra edge in your slot games then look no further. Dark Vortex is here to mix up your game-playing experience with its unique and lucrative features. Who knows, you might just spun your way to some cursed riches in no time.
Dark Vortex: Unleash Your Inner Demon and Collect His Treasures
Are you ready to summon the power of the Dark Vortex and be transported to the interdimensional afterlife? Of course, you are! With 3,125 ways to win, this slot game is one of the most rewarding ones out there. If you're lucky enough to collect two cursed symbols on adjacent reels, hold on tight because the vortex is about to open up.
The moment it does, the vortex will be filled with high-paying symbols, wilds, and Free Spins enhancements. This is where your winning potential seriously soars. Did you know that Dark Vortex offers a win of 7,318 times your bet on every free spin? Now that's something to howl about!
If you're not ready to summon the Dark Vortex and win big, you might want to stick to a game that doesn't make your hair stand on end. However, if you're brave enough to try, grab your lucky charm, and give it a spin. Who knows? You could be the Dark Vortex's next chosen one! Just remember, the bigger the vortex, the bigger the win. So, don't be shy, unleash the inner demon within you and collect his treasures. What could go wrong?
Experience the Dark Side with Dark Vortex Graphics and Theme
Get ready to be transported to a kingdom full of evil forces – Dark Vortex offers the ultimate dark gaming experience. The graphics and themes are designed to immerse players into a realm full of dark and miserable things. From the background to the eerie sound effects, everything about the game promotes its theme and provides an exciting gaming experience that is to die for!
The graphics in Dark Vortex are mesmerizing with a perfect blend of contrast and color schemes. The designers put their heart and soul into every pixel and created the ultimate masterpiece that captures the eerie essence of the game. The reels are adorned with symbols of demons, beasts, and floating skulls that truly resonate with the game's theme. The whole setup is well crafted down to the last detail, transporting players to a realm of darkness that has never experienced before.
The sound effects in Dark Vortex are perfectly in sync with the game's theme. The game introduces a soundtrack that is eerie and chilling, setting the perfect mood for the game. The sound effects are carefully selected to match different events in the game, giving players an immersive experience that is hard to come by. Player reactions to the game's sound effects alone often lead to a horror movie-like experience.
The game designers and developers have outdone themselves in creating a gaming experience that encompasses a perfect blend of graphics, themes, and sound effects, putting Dark Vortex on the top of the charts when it comes to creating a thrilling and immersive gaming experience. Give it a spin and feel the thrill of being trapped in a world of dark forces that undoubtedly provide a gaming experience that is beyond comparison!
More Games from Yggdrasil Gaming You Will Love
If you thought Dark Vortex was great, then Vikings Go To Hell, another excellent slot machine developed by Yggdrasil Gaming, will definitely be up your alley. Just like Dark Vortex, this game has a gorgeous setting and graphics that will leave you in awe.
But there's a catch – Vikings Go To Hell has only 25 paylines. But don't worry; this doesn't mean it's any less entertaining! There are plenty of bonuses and free spins to be had, so you won't get bored quickly.
Plus, who doesn't enjoy slaying some demons from hell after a hard day's work? Luckily for you, Vikings Go To Hell gives you the perfect opportunity to do just that while winning some fantastic prizes in the process.
Developer of Dark Vortex – Yggdrasil Gaming
Let's dive into the developer of this spooky game – Yggdrasil Gaming. Sounds like a spell or a type of medication, doesn't it?
But make no mistake about it, this is one of the top digital online gaming solution providers in the industry. And with Dark Vortex, they've once again demonstrated why they've shot up to become one of the most respected and acclaimed suppliers.
These guys definitely know what they're doing, and their games have always been at the cutting edge of technology. I mean, the game has a vortex that takes you to a parallel dimension – that's like something straight out of Doctor Strange! And if you're anything like me, you'd find yourself lost in this vortex for hours on end, almost falling under its spell.
So if you're into the spooky, the supernatural, or just want to experience gaming at its finest, Yggdrasil Gaming and their Dark Vortex is definitely the way to go. Just don't blame us if you get sucked in and find yourself with a new addiction.
FAQ
What is Dark Vortex?
Dark Vortex is a 5-reel, 243 to 3,125 ways to win slot game from Yggdrasil Gaming that has a dark and evil theme.
What are the features of Dark Vortex?
The features of Dark Vortex include Vortex Reels, Orbs Collection, and Vortex Free Spins that activate stacked wilds and stacked high pay symbols.
What is the minimum and maximum wager of Dark Vortex?
Dark Vortex can be played on all devices from 10p to 50 pounds per spin.
What is the win potential of Dark Vortex?
Dark Vortex offers a win of 7,318 times your bet on every free spin.
What is the Orbs Collection feature?
The Orbs Collection feature is a part of the Vortex Reels feature and awards pink and blue orbs that add extra wilds and free spins.
Can I buy my way into the Vortex Free Spins feature?
Yes, you can buy your way into the Vortex Free Spins feature on Dark Vortex.
What other games are similar to Dark Vortex?
Vikings Go To Hell, also produced by Yggdrasil Gaming, has a similar setting and scenery to Dark Vortex and offers a massive presence of bonuses.
What is the Vortex Reels feature?
The Vortex Reels feature is triggered when the Vortex symbol appears on adjacent reels and increases the reel height from 3 to 5 symbols and fills the vortex with high-paying symbols, wilds, and Free Spins enhancements.
What we like
More ways to win with stacked wild and high pay symbols
Vortex Reels and Vortex Free Spins special features
Significant winning potential with 3,125 ways to win
Immersive graphics and theme that enhance the gaming experience
What we don't like
Limited number of paylines compared to other games
Not suitable for players who prefer simpler slot games