Da Vinci Ways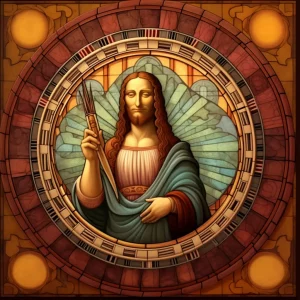 Are you ready to unleash your inner artist and win big at the same time? Da Vinci Ways, developed by High 5 Games, is an exciting online slot game that will take you on a journey through history as you spin the five reels.
With 243 ways to win and an average volatility, you can expect to trigger payouts by landing winning combinations of three symbols or more. But that's not all – the Tumbling Reel feature adds an extra layer of excitement to the gameplay, allowing you to replace winning symbols with new ones. Who knew that art could be so profitable?
And if you're really lucky, you may just stumble upon the Wild symbol, which can help you create even more winning combos with ease. It's like having your own personal assistant, except it doesn't ask for a raise.
All in all, Da Vinci Ways is a slot game that is both artistically beautiful and financially rewarding. Give it a spin and see for yourself!
Symbols and Payouts
If art is your thing, then Da Vinci Ways slot game is just what you need! The game has an artistic theme, featuring symbols of some of the greatest works of the legendary artist Leonardo Da Vinci, as well as stunning gems that are bound to catch your eye. The Mona Lisa, the Portrait of a Musician, and the Virgin of the Rocks are the most valuable symbols and pay out the most throughout the game. Though I gotta say, with Mona Lisa's smile, I'm surprised she doesn't pay out more!
Speaking of payouts, the Mona Lisa is the highest-paying symbol in the game, and if you're lucky enough to get five symbols in a row, you can win up to 500 times the bet. That's a lot of dough, enough to make you smile like Mona Lisa! As for the gems, they may not pay out as much as the great works of art, but they do offer some decent rewards. So, keep an eye out for them too.
Unleash Big Wins with Scatter and Free Spins
If you're looking for an online slot that delivers generous rewards and fun gameplay, look no further than Da Vinci Ways. This game offers an interesting twist on the traditional slot formula, with its Tumbling Reels and unique symbols that promise big wins.
But one symbol that really stands out is the Scatter, which plays an important role in unlocking free spins and boosting your chances of hitting jackpots. Unlike the Wild symbol, the Scatter symbol can't be replaced, but don't worry – you'll love what it does for you.
When you hit three or more Scatters on the reels, you'll automatically trigger the free spins feature. Not only do you get more chances to win big, but the free spins are also loaded with extra features and bonus rounds. And don't forget, activating the Tumbling Reels feature can further increase your chances of unlocking those free spins. Talk about a sweet deal!
But be careful not to let the excitement get to your head. Remember, the Scatter symbol may be hard to find, but it's worth the wait. Just sit back, take a deep breath, and enjoy the ride. And who knows, while you're waiting for those Scatters to hit, you may even stumble upon some other exciting bonuses that Da Vinci Ways has in store for you.
Mobile Compatibility
Da Vinci Ways is so versatile it could be your prom date.
This slot game is compatible with desktop, tablet, and mobile devices, so you can play it anywhere, anytime. Unlike your prom date though, this game will show you a good time every time you play it.
It's optimized for mobile play, so you can enjoy the same experience on any device. This means you can finally see Mona Lisa's smile in HD, no matter where you are.
Developer and Design
Da Vinci Ways was developed by High 5 Games, which is known for creating some of the best online slot games. If you've played any of their games before, you'll know that they always strive to create unique slot games that stand out from the crowd. And this game is no exception!
The design of the game reflects the art theme of the game, taking players on a journey through some of Leonardo Da Vinci's most famous works. The reels are inside the frame of a golden painting, adding to the feeling of luxury and grandeur. The graphics of the game are simple but elegant, which is a nice contrast to other slot games that try to have overly complicated graphics.
The Tumbling Reel feature is a nice touch that allows symbols to fall off the screen and be replaced with new symbols, potentially giving players even more ways to win. It's small details like this that make Da Vinci Ways stand out from other slot games.
In conclusion, Da Vinci Ways is a well-designed and enjoyable online slot game that's bound to keep players entertained for hours. Plus, who doesn't want to see some of Da Vinci's most famous works of art while they're trying to win big?
FAQ
Is Da Vinci Ways a high volatility slot?
No, Da Vinci Ways has average volatility, meaning that it offers a balance between frequent small wins and occasional big wins.
What is the most valuable symbol on Da Vinci Ways?
The most valuable symbol is the Mona Lisa, capable of paying 500 times the bet placed if you manage to find 5 symbols in a row.
Does Da Vinci Ways have free spins?
Yes, Da Vinci Ways has a scatter symbol that triggers free spins.
Can the wild symbol replace the scatter symbol on Da Vinci Ways?
No, the wild symbol cannot replace the scatter symbol on Da Vinci Ways.
What is the Tumbling Reel feature on Da Vinci Ways?
The Tumbling Reel feature on Da Vinci Ways causes winning symbols to dissolve and make way for new symbols, increasing the chances of achieving a new winning combination.
Can I play Da Vinci Ways on my mobile device?
Yes, Da Vinci Ways can be played on tablet, mobile devices, and desktop without having to organize a visit to a physical casino.
Is Da Vinci Ways developed by High 5 Games?
Yes, Da Vinci Ways is developed by High 5 Games.
What is the theme of Da Vinci Ways?
The theme of Da Vinci Ways is centered on the works of art by Leonardo Da Vinci, set in the frame of a golden painting.
What we like
Tumbling Reel feature adds to gameplay excitement
Free spins increase chance of winning prizes
Attractive art theme featuring works of Da Vinci
Mobile compatibility for on-the-go play
What we don't like
Gems pay out lower compared to other symbols
No bonus game feature