Cash Bunny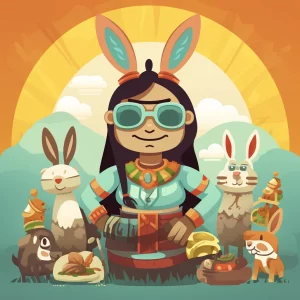 Step onto the farm with Cash Bunny, the cute and cuddly slot game with a simple and straightforward design. The symbols on the reels showcase farm-related items such as fruit, corn, and a wheat sheaf, along with animals that you're sure to love. This game is perfect for animal lovers who want to spend some quality time with their furry (and not-so-furry) friends.
The graphics in Cash Bunny are simple and basic, which enhances the game's charm. Don't expect any 3D animation or booming background music; this game is all about the farm vibes. Though we have to say, we were hoping for a little more of a musical accompaniment. Maybe some animal-themed tunes to accompany our wins? Eggecellent idea, right?
Get Wild with Cash Bunny's Bonus Symbols
Who knew that bunnies and foxes could be such good pals? In the colorful world of Cash Bunny, the fox is the Wild symbol that will help you complete winning paylines by substituting for almost any other symbol, except the fluffy Bonus rabbit!
The bunny is ready and waiting to bestow some serious rewards upon players. Land three, four, or five Bonus symbols anywhere on the reels and you'll trigger a special Bonus game that puts you in control of the carrots! Choose the right furry friend and you could be picking carrots all the way to the bank – just be sure to keep your hands off those clever bunnies!
The Bonus game is a real highlight of playing Cash Bunny, with players on the edge of their seats as they try to maximize their carrot haul. And with the rabbit picking up steam, landing several Bonus symbols quickly turns into win after win.
So don't be afraid to get wild and woolly with Cash Bunny's Bonus symbols, just don't get too close to those cute little bunnies or you might end up with a runaway jackpot!
Payout Symbols
Get ready to hop into big payouts with Cash Bunny's symbols! The reels are filled with a variety of payouts, ranging from the classic fruit symbols like oranges and cherries to everyone's favorite vegetable buckets.
The corncob and wheat sheaf symbols offer even higher payouts! And if you manage to align the crows, pig, fox, and farmer symbols, you'll hit the biggest payout yet.
It's important to note that winnings are expressed in points, not coins or dollars. Each point is equivalent to one cent of Dollar, so don't get too excited when you see those numbers flying across the screen!
And a quick tip: while your total winnings from a single game are combined, only the highest value win on a single line counts. So, go big or go home!
Bet Big, Win Bigger with Cash Bunny
Get ready to hop on the big winnings with the latest online slot game sensation, 'Cash Bunny'! This game is perfect for those who love a casino and the cuteness of a fluffy bunny rabbit.
But before you get lost in the cuteness, let's talk about betting options. With 'Cash Bunny', players have full control of their bet amount. You can bet as little as $0.25 or as much as $4 per spin. Not only that, there's an Autoplay feature that lets you select the number of spins you want from options like 5, 10, 25, 50, 100, 250, or 500. So, even if you need to take a break to grab a carrot or two, Cash Bunny has got you covered.
While you're at it, don't forget to come up with a plan for what to do with the big winnings. Maybe, you could even buy a cute bunny of your own! Wait, you already have one? Well, then you can spoil them with all the carrots or pellets they could ever want. It's a win-win for everyone!
Gameplay Features
Are you ready to bounce into the world of Cash Bunny? This game is the perfect fit for both new and seasoned players. With 5 or 10 paylines, depending on your preference, players must match symbols from left to right to win big. And if Lady Luck isn't on your side, don't worry – the Double Spin feature will come to the rescue.
The Double Spin feature is a real jackpot-chaser. If you don't win on the first turn, the game suggests which reels to keep in place while others spin again in the second round, increasing your chances of winning. It's like having a second chance at love, but without the emotional baggage.
Not only is Cash Bunny easy to play, but it's also a nostalgic nod to traditional slots. You'll feel like you're in a classic Las Vegas casino with the bright graphics and fun sound effects. Just be sure to wear your best 'lucky bunny' socks, and you'll be on your way to hitting the jackpot in no time!
FAQ
What is the minimum bet allowed in Cash Bunny?
The minimum bet allowed in Cash Bunny is $0.25.
What is the maximum bet allowed in Cash Bunny?
The maximum bet allowed in Cash Bunny is $4.
What is the software provider of Cash Bunny?
Mag Elettronica-WMG is the software provider of Cash Bunny.
What is the theme of the Cash Bunny slot game?
The theme of the Cash Bunny slot game is a cartoon farm with the animals from Old McDonald's Farm.
How many paylines does Cash Bunny have?
Cash Bunny has 10 paylines or 5 paylines, depending on the version you play.
What is the special Bonus game in Cash Bunny?
The special Bonus game in Cash Bunny is triggered by landing three, four, or five rabbit symbols, and players have the opportunity to win additional prizes by clicking on one of the rabbits on the bonus game screen.
Does Cash Bunny have a music soundtrack?
Cash Bunny does not have a background music soundtrack.
Is there an Autoplay feature in Cash Bunny?
Yes, there is an Autoplay feature in Cash Bunny that allows players to select the number of spins they want to play.
What we like
Cartoon farm-themed slot game
Wild and Bonus symbols for extra features
Different value levels for symbols
Easy and enjoyable gameplay
What we don't like
Simple graphics with no animation or background music
Limited betting options