Burning Reels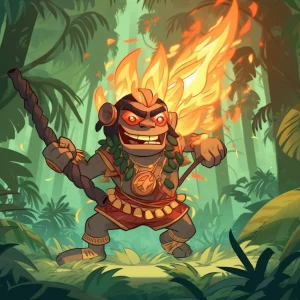 Firefighters are often considered heroes for their bravery and valor in the face of danger. But what if you could experience a firefighting adventure without putting your life in jeopardy? You can do just that with Burning Reels, a 5-reel and 20-payline video slot game that will set your winnings alight!
As you enter the game, you're welcomed by a pixelated team of firefighters ready to tackle a raging forest fire. While the theme of the game may seem serious, the visualization keeps things light and entertaining. The game has everything a passionate slot player could ask for, including a Wild symbol, Scatter symbol with free spins, and a multiplier symbol. The Wild symbol replaces symbols on the reels to form winning combinations while the Scatter symbol initiates free spins when it appears three times on the reels. However, it's the multiplier symbol that sets this game apart from others. Once activated, it doubles the winnings in the free spins round, which is pretty hot stuff!
What's really great about Burning Reels is that players can customize the game's volatility levels, animation, screen size, and spin speed using Wazdan tools. These options allow players to tailor their gaming experience to suit their preferences and ensure the game doesn't get boring.
If you're looking for a slot game that will keep you entertained for hours, look no further than Burning Reels. It's packed with features to help you snag big winnings while also enabling you to customize the gaming experience. So, what are you waiting for? Play Burning Reels and prove that you're a firefighting hero!
Get Ready to Feel the Heat with Burning Reels: A Fiery Slot Game
Burning Reels is a hot newcomer in the world of online slot games. With its blazing firefighter theme, the game is sure to set your screen ablaze with excitement. The game boasts a unique motif, featuring symbols that stay true to the firefighter theme throughout.
The firefighter character, fire truck, rescue helicopter, helmet, and sleeve are just some of the symbols that players can expect to encounter when playing this game. Even the lower-paying symbols (represented by card suits) are embossed on gas tanks – talk about dedication to the theme!
It's the key to unlocking free spins and other exciting bonuses. Then there's the fiery seven symbol, which is the highest paying symbol of them all. With the ability to reward players up to 5,000 times their line bet for just 3, 4, or 5 icons, it's no wonder players are feeling the burn for more.
Overall, if you're looking for a smoking hot game with exciting firefighter-themed bonuses, Burning Reels is the slot game for you. Just remember to have some water nearby – after all, this game is known to ignite passion and leave players feeling hot under the collar!
Get Fired Up with Burning Reels: An In-Depth Look into Wazdan Tools
Get ready to spice up your online casino experience with Burning Reels! This exciting slot game features some seriously cool Wazdan tools that allow players to customize their gameplay. Who says you can't have it your way?
With Burning Reels, you have the ability to adjust your game's volatility levels, animation, screen size, and spin speed. It's like having your own personal slot game concierge! Want to ramp up the risk and go high-volatility? Go for it! Prefer a more mellow pace and soothing animation? No problem!
Whether you're a newbie or a seasoned player, customization is the name of the game. And with Wazdan tools at your disposal, the possibilities are endless. Want to play Burning Reels on a bigger screen? You got it. Want to increase the speed of your spins for even more excitement? Easy peasy.
Let's be real, sometimes casino games can feel a little cookie-cutter. But with Burning Reels and Wazdan tools, you get to break away from the mold and really make the game your own. It's like adding salt and pepper to your fries – it might seem small, but it can take the experience to a whole new level.
So why settle for a one-size-fits-all approach? Play Burning Reels and use Wazdan tools to make it the game of your dreams. Who knows, you might just ignite a winning streak and end up burning down the house!
Winning Potential: Detailed Information
If you're looking for a slot game that's sizzling with big wins, then look no further than Burning Reels! With eight symbols to keep your eyes peeled for, this game will keep you on the edge of your seat. Keep your eyes open for the golden star scatter symbol, which not only has multipliers, but also pays out when it lands in any box on the game screen. It's almost like it's raining gold, but without all the mess!
The fiery seven is the symbol that will really have you feeling the heat. It's the highest paying symbol, and it rewards players with up to 5,000 times their line bet for 3, 4, or 5 icons. That's enough to make you want to burst into flames! Remember though, if you're lucky enough to get a minimum of 3 scatter symbols, you'll receive double the prize. And who doesn't like double the fun?
But if you really want to feel like you're on fire, try to get 4 scatter symbols! You'll earn 10 times your bet per spin for that, and if you're really on a hot streak, you might even get 5 scatter symbols! That means you can earn up to 50 times your bet per spin. Get a combination of those, and you could earn up to 200 times your bet per spin. That's hot enough to fry an egg!
Is Burning Reels worth it? Here's our Honest Review
Looking for a blazing online slot game that will heat up your gaming experience? Look no further than Burning Reels! This firefighter-themed game is packed with thrilling gameplay features that will leave players on the edge of their seats.
One of the standout features of Burning Reels is the realistic fire animations. These animations really bring the theme to life and immerse players in the gameplay. You'll almost feel like you're fighting fires alongside the brave men and women of the fire department!
Of course, the most important part of any online slot game is the winning potential, and Burning Reels does not disappoint in that regard. The game's various features and bonuses offer plenty of chances to hit it big and strike gold.
Overall, Burning Reels is a fun and exciting game that is definitely worth taking for a spin. Just be careful not to let the heat get to you!
FAQ
What is Burning Reels?
Burning Reels is a 5-reel, 20-payline video slot game where players join a team of firefighters who try to prevent a forest fire from spreading. The game offers special features such as Wild symbol, Scatter symbol with free spins, and a multiplier symbol that can increase players' winnings.
What are the symbols in Burning Reels?
Burning Reels has 8 symbols, including a firefighter, a fire truck, a rescue helicopter, a helmet, a sleeve, and more. One symbol stands out – the golden star – which is a Scatter that pays out in any box and with multipliers that increase every bet.
How many Scatters do I need to win in Burning Reels?
You need at least 3 Scatters to win double prizes. 4 Scatters will earn you 10 times your bet per spin, and 5 Scatters will earn you 50 times your bet.
What are the multipliers for card symbols in Burning Reels?
Tens, jacks, and queens have the same multipliers: 20 times your line bet for 3 symbols, 50 times for 4 symbols, and 200 times for 5 symbols. Kings and aces produce the same winnings with the same multiplier numbers: 5, 20, and 50.
What is the minimum bet to play Burning Reels slot game?
The minimum bet to play Burning Reels is dependent on the casino you are playing at. The game has 20 paylines, so the bet must be multiplied by this number. For example, a minimum bet of $0.01 multiplied by 20 paylines equals a minimum bet of $0.20.
Can I change the volatility levels on Burning Reels?
Yes, you can change the volatility levels on Burning Reels to adjust the game to play either high or low volatility. There are also other tools like spin speed, animations, and screen size that you can adjust to your preference.
What other slot machines are similar to Burning Reels?
If you enjoy Burning Reels, you might also like Corrida Romance – a bullfighting-themed slot machine also produced by Wazdan that allows you to win a maximum multiplier of 750x.
What feature does Burning Reels have for free spins?
Burning Reels has a Scatter symbol that activates the free spins feature. Depending on the number of Scatters, players can receive 10, 20 or 30 free spins. During the free spins round, there is also a multiplier symbol that players can receive to increase their winnings.
What we like
Unique firefighter theme
Special features like Wilds and Scatters with free spins
Highly customizable gameplay with Wazdan tools
Exciting winning potential with up to 5,000 times line bet
What we don't like