Bomber Fruit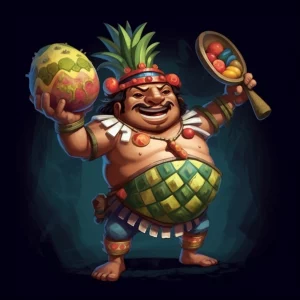 Bomber Fruit is exactly what it sounds like: a game where fruit explodes. Sweet juicy goodness flying everywhere! The fruit explodes when you hit it with a Bomber Fruit symbol, and that's always a great time. The game follows the common 5×3 mechanism, so experienced slot players will feel right at home.
One of the exciting features in this game is the Wild symbol, which allows for even more explosions. Not all wilds are exciting, but when they're in this game, they certainly are. Additionally, the game has a question mark multiplier, which can lead to some decent winnings. Just don't get too excited and blow up your computer when you hit the jackpot. It's not worth it.
The RTP is slightly above 95%, meaning that you have a decent chance to walk away with some extra cash. Or, at worst, you'll have spent some time playing a fun game and throwing some fruit bombs around. Either way, it's a win-win situation!
Symbols
In Bomber Fruit, you'll find a juicy assortment of fruits as symbols, including plums, watermelons, mandarins, lemons, grapes, raspberries, and cherries. It's like someone went on a shopping spree at the farmer's market and decided to turn their haul into a slot game – we're not complaining!
Unlike other slot games that use the classic playing card symbols (A, K, Q…), Bomber Fruit keeps it fresh and fruity. However, this can make it slightly more difficult to remember the winning combinations, especially if you've had a few too many glasses of fruit punch. Pro tip: try saying the combination out loud, it might just help you remember it better.
Overall, the fruit symbols in Bomber Fruit add a colorful and delicious touch to the game. Just make sure you don't accidentally take a bite out of your screen while playing – speaking from experience here.
Graphics and Sound
Get ready to feast your eyes on the visually stunning Bomber Fruit slot game. This fruit salad of colorful symbols is a real treat for players who love a beautiful game. However, don't worry about being overwhelmed by the graphics, as they strike the perfect balance between exciting and easy on the eyes.
But that's not all, Bomber Fruit also features a rhythmic soundtrack that complements the gameplay and adds to the overall experience. However, after listening to it for a while, you may start to crave some silence. Fear not, you can always turn off the sound and listen to your favorite tunes instead.
The cherry on top of this delicious slot game is the captivating animations. They're fun, they're vibrant, and they perfectly match the fruit-themed vibe. Bomber Fruit is proof that even the simplest of themes can look and feel amazing with the right attention to detail.
RTP
Are you ready to experience some explosive gameplay? Look no further than Bomber Fruit! While the RTP may not be the highest out there, hovering just above 95%, the potential for big wins is still very much present. Plus, with a Wild symbol and juicy multiplier, you'll want to keep your eyes peeled for those big payouts.
Just like dropping a bomb on a fruit stand, this game will have you feeling like a real risk-taker. Will the first spin be a dud or an absolute blast? You never know – but that's what makes this game so fun. And hey, with that kind of RTP, you're definitely not playing for pennies.
Similar Games
Looking for more fruity fun? Look no further than the world of online slots! Capecod, the mastermind behind Bomber Fruit, also offers another juicy slot simply called Fruits. It may not have the same explosive features, but it's definitely worth a spin.
If you're looking for some cascading fruit action, try NetEnt's Fruit Case. Watch out for the wild blender symbol, which can mix and match fruits for delicious wins. Or, take a trip down the Nile with Playson's Fruits of the Nile. The unique graphics make it feel like you've stepped into a tropical paradise.
So, whether you're in the mood for some Bomber Fruit bombs, or prefer a more traditional fruit slot experience, there's plenty of options to choose from in the fruity world of online slots. Just make sure you don't take a bite out of your screen!
FAQ
What is the RTP of Bomber Fruit?
The RTP of Bomber Fruit slightly above 95%.
How many paylines does Bomber Fruit have?
Bomber Fruit has 25 paylines.
What are the special symbols in Bomber Fruit?
The special symbols in Bomber Fruit are the bomb (Wild symbol) and the question mark (possible multiplier on winnings).
What other fruit-themed slots are similar to Bomber Fruit?
Other fruit-themed slots similar to Bomber Fruit include Fruits from Capecod, Fruit Case from NetEnt and Fruits of the Nile from Playson.
What are the fruit symbols in Bomber Fruit?
The fruit symbols in Bomber Fruit include plums, watermelons, mandarins, lemons, grapes, raspberries, and cherries.
Is there a training phase required to play Bomber Fruit?
No training phase is required to play Bomber Fruit, as it follows the common 5×3 mechanism among online slots.
Can the sound be disabled in Bomber Fruit?
Yes, the sound in Bomber Fruit can be disabled.
Are there classic playing cards in Bomber Fruit?
No, Bomber Fruit does not have the classic playing cards.
What we like
25 paylines make the game familiar for experienced players
Wild symbol and multiplier create potential for good payouts
Visually stunning appearance without being overwhelming
Captivating animations maintain simplicity expected from fruit-themed slots
What we don't like
No classic playing cards in the game, making it slightly more difficult to remember winning combinations
RTP not particularly high