Blood Suckers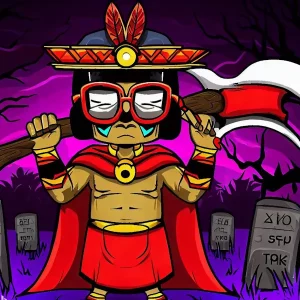 Are you a sucker for vampires? If yes, then Blood Suckers should be right up your alley. This slot game by NetEnt features all the classic elements of vampire lore, including garlic cloves, holy water, and of course, Dracula himself. But don't worry, you won't need a wooden stake to leave this game a winner!
One of the standout features of Blood Suckers is its simplicity. The game has a standard five-reel, three-row layout with 25 paylines, making it easy for even the newest of players to understand. The Wild and Scatter symbols are the staple features of this game, but what really sets it apart is the Bonus game. Triggered by the appearance of three or more Bonus symbols on an active payline, this game lets you open coffins and slay vampires for instant coin rewards.
Overall, Blood Suckers is a refreshing take on the vampire-themed slot game genre. Sure, it may not have the most groundbreaking graphics or immersive storyline, but it's a solid choice for anyone looking for a fun, easy-to-play game with a chance of winning some substantial cash. You don't need to be a vampire enthusiast to enjoy this one, but if you are, it's sure to suck you in (pardon the pun).
Gameplay
Are you ready for a spooky adventure filled with thrills and excitement? Blood Suckers is a classic slot machine game you don't want to miss. It has all the features you love, with 5 reels, 25 paylines, and a max bet of $50. That means there are plenty of ways to win big, and you won't have to worry about running out of coins.
One of the best things about Blood Suckers is the Autoplay feature. It allows you to sit back and relax while the game plays for you, so you don't have to keep clicking the spin button. This feature is perfect for those who want to take a break or need to step away from the game for a bit.
The graphics in Blood Suckers are well-designed in a comic book style, which adds to the game's eerie and spooky vibe. You'll feel like you're in a foggy alley, surrounded by creepy vampire characters as symbols. But don't worry, they're all here to help you win big!
All in all, Blood Suckers offers a gameplay experience that both beginners and seasoned players will love. So, grab your garlic and wooden stakes, and let's see if you have what it takes to slay those vampire symbols!
Return to Player (RTP)
Blood Suckers is one of those games that suck you in (pun intended) and never let go. But don't worry, it's not all bad – the game has a high RTP of 98%! That means your money is more likely to last longer, and with better odds of winning, you might even come out on top. It's like the vampires are actually helping you for once. Take that, Dracula!
With an above-average RTP rate, Blood Suckers is an attractive option for players looking to get consistent wins while enjoying the game. Who doesn't love a game that rewards you for sticking around? It's like getting paid to hang out with your vampire friends. Plus, when you're playing a game with such a high RTP rate, you know you're in for a bloody good time. Okay, no more vampire puns, I swear.
Symbols
Blood Suckers is a slot game that will make your blood boil with excitement! The game features symbols that are all related to the vampire theme, including different vampire characters, garlic, a magic potion, and a Bible with a crucifix. The vampire characters are so realistic that you might actually think they're going to drain your blood!
But don't worry, the Wild symbol is just a vampire sucking blood from a girl's neck. Wait, that doesn't sound very reassuring, does it? Well, at least it's not a real vampire! The Scatter symbol is a vampire bride, so if you're into undead romance, this game is definitely for you.
All of the symbols in Blood Suckers are well-designed and fit perfectly with the game's overall theme. The attention to detail is impressive, and it really adds to the eerie atmosphere of the game. Just make sure you have some garlic handy while playing, you never know when those bloodsuckers might come after you!
Bonus Game: Uncovering Vampire Secrets!
Are you ready to fight the undead and earn some serious cash? Then the Bonus Game in Blood Suckers is about to become your new favorite hunting ground! To trigger it, you must land three bonus symbols on the reels and be taken to a funeral chamber where hidden secrets lay.
But beware! The chamber is filled with coffins and, as you crack them open, you'll need to defeat any lurking vampires. As you click around, always be on high alert for bats, as these creatures will end the game immediately. So, grab your wooden stake and head inside the chamber to collect the best rewards the game can offer!
Overall, Blood Suckers' Bonus game adds a thrilling layer to the gameplay, engaging players in intense animations and a rewarding experience. Not to mention, it gives you the chance to kick some vampire pearly-white fangs and save the day! So, why not sink your teeth into the action-packed Bonus game of Blood Suckers today?
FAQ
What is Blood Suckers?
Blood Suckers is an online slot game developed by NetEnt with a vampire theme.
How many reels and paylines does Blood Suckers have?
Blood Suckers has 5 reels and 25 paylines.
What is the minimum and maximum bet for Blood Suckers?
The minimum bet is $0.01 and the maximum bet is $50.
What is the RTP of Blood Suckers?
The RTP of Blood Suckers is 98%, which is above average and guarantees consistent wins.
What are the special features in Blood Suckers?
Blood Suckers has traditional special features like Wild and Scatter symbols, and a single Bonus game.
What is the Scatter symbol in Blood Suckers?
The Scatter symbol in Blood Suckers is a bloody and disturbing Vampire Bride, which gives you 10 free spins if it appears at least three times on the reels.
What is the Bonus game in Blood Suckers?
The Bonus game in Blood Suckers is a sort of funeral chamber where twelve coffins are aligned, and you must kill the vampires resting inside them to obtain winnings.
What is the Wild symbol in Blood Suckers?
The Wild symbol in Blood Suckers depicts a vampire intent on sucking blood from the neck of a blonde girl, which acts as a wild card and can replace all others except for the Scatter and the Bonus symbol.
What we like
High RTP of 98%
Traditional Wild and Scatter symbols
Well-designed vampire-themed graphics
Fun Bonus game
What we don't like