Blazing Bull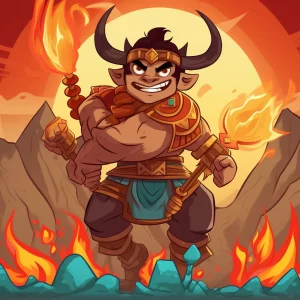 If you fancy big wins and an exciting gameplay, Blazing Bull is the slot game for you! The game offers a 6×4 reel layout, providing 4,096 ways to win, and has an impressive RTP of 97.42%. It's high volatility adds a certain thrill to the game, but can also result in long waiting periods for a considerable number of spins with winnings below the average. Just be patient and wait for that big win to hit!
Scatter symbols are the bull coins that come in either silver or gold, and they're your key to unlocking the two bonus modes. Depending on the color, you can get free spins and multipliers, but aim for the gold coin as you can get additional free spins. Just don't get too excited, the bonus modes may end with lower payouts than expected, so it's always important to keep a level head.
Overall, the gameplay of Blazing Bull is exciting, and it's high volatility will keep you on the edge of your seat. Get ready to experience the thrill of the chase, and of course, the thrill of those big wins!
Visuals
Blazing Bull's interface is like a beautiful dream you never want to wake up from. The landscape is so gorgeous that it might make you want to take a deep breath and imagine you're standing there for real. And hey, when was the last time you saw a real mountain lion? The exquisitely drawn animals on the reel might just be the closest you get to experiencing them, and boy do they look marvelous! They even have a mystical aura surrounding them, which makes you think they might be capable of appearing in your dreams at night.
Those ivy vines surrounding the reel are like a rainbow-colored dessert to the eyes, and the swaying leaves are nothing short of mesmerizing. Honestly, it's hard not to get lost in the game's aesthetics. You might even forget that you're supposed to be playing and not just gawking at the screen! All in all, Blazing Bull is a feast for the senses that you don't want to miss.
Bonus Features
Blazing Bull is not just another run-of-the-mill slot game, it boasts of two bonus modes that are activated by the elusive Scatter symbol, which can appear in silver or gold. The silver Scatter symbol is your ticket to free spins while the gold one is your key to multipliers.
It's always a bonus to have free games and win multipliers – it's like having your cake and eating it too. And that's not all because the Scatter symbol has even more in store for you. If you manage to get two or more Scatter symbols in one spin, behold the extra free spins that come your way.
But beware, dear player, the game's volatility can play havoc with your emotions and keep you on the edge of your seat – it's like riding a wild rodeo bull, but with potentially more rewards!
Volatility
Looking for a slot game that will keep you on the edge of your seat like a bull waiting to charge? Look no further than Blazing Bull. This game is designed with high volatility, which means that you need to be patient for those big payouts. But don't worry, it's worth the wait.
When playing Blazing Bull, you should expect long strings of spins with lower payouts than you might encounter in other games. This can be frustrating at times, but it's all part of the experience. After all, what's the fun in winning too easily?
But don't let the longer waiting period discourage you. If you can hang in there, the bonus modes in Blazing Bull are no slouch. They have serious potential to turn your luck around, resulting in significant rewards. However, bear in mind that their outcomes are also subject to the game's high volatility.
Alternative Game Options
If you find yourself addicted to the high risk-high reward of Blazing Bull and love the animal theme, then you might want to check out Bull In A China Shop. It's like Blazing Bull's slightly more chilled-out cousin. Developed by Play'n Go, the bull again takes center stage, but this time with a medium volatility rating. While the fire and excitement of Blazing Bull are a lot of fun, sometimes you want to kick back with something a little less wild.
Of course, if you're feeling brave, you can always try and combine the two games. Just maybe avoid doing so immediately after a big dinner. It can get a little too much for the senses!
Overall, Bull In A China Shop provides a nice mix of risk and playability with a lighter touch, making it an attractive option for anyone looking to switch up their normal slot game lineup. Just don't expect it to be exactly like Blazing Bull – it's a different game with its own unique set of features.
FAQ
What is Blazing Bull?
Blazing Bull is an online slot game developed by Kalamba Games, featuring a peaceful valley with a bull as the main character surrounded by ivy and leaves. It has a high volatility and RTP of 97.42%.
What is the aesthetic element of Blazing Bull?
Blazing Bull has a peaceful valley background with a rhythmic tune at each turn, animals of every kind, and mystical aura surrounding them, offering a pleasant experience to see and play.
What are the symbols to pay attention to in Blazing Bull?
The symbol to pay attention to in Blazing Bull is the bull's coin, which can be gold or silver. In both cases, it is a Scatter symbol that allows access to one of the two bonus modes with free spins and multipliers and additional free spins.
What is the volatility level of Blazing Bull?
The volatility level of Blazing Bull is high, and it can make the player anticipate a rich bonus mode while waiting for a considerable number of spins with winnings below the usual average.
What is the RTP of Blazing Bull?
The RTP of Blazing Bull is 97.42%, which is high compared to other online slot games.
What are the other slots similar to Blazing Bull?
There are not many online slot games that make the bull the protagonist of their reels, but if you are looking for another one, we can recommend Bull In A China Shop, an online slot marked by Play'n Go with medium volatility.
Does Blazing Bull offer a bonus mode for players?
Yes, Blazing Bull offers a bonus mode that can be accessed by the bull's coin symbol, which is a Scatter symbol that allows players to receive free spins and multipliers and additional spins.
Is patience required when playing Blazing Bull?
Yes, patience is required when playing Blazing Bull as it has a high volatility level, and it is not uncommon for the bonus mode to end with a lower payout than expected.
What we like
Beautiful interface featuring animals and natural landscapes
High volatility gameplay for added excitement
Bonus modes offer free spins and multipliers
4,096 ways to win with an RTP of 97.42%
What we don't like
Long waiting periods for significant payouts
Bonus modes may result in lower payouts than expected