Ancient Script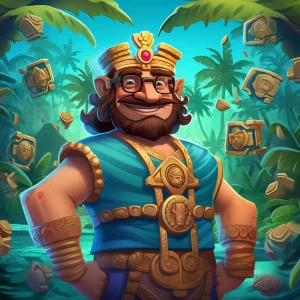 Ancient Script brings players into the world of mystical Egypt and its ancient culture. With its 5-reel and 10-payline format, players will be enticed by the traditional graphics, such as Ankh crosses, Bastions, Pyramids, and the Eye of Horus, as they spin the reels.
But the classic theme is not all there is to this game. Ancient Script offers a modern take on its Egyptian-inspired symbols, including free spins and the chance to turn random symbols into lucky ones. Keep your eyes peeled for the small pedestal to the right of the grid as it may hold the key to unlocking a winning combination.
So why not take a journey back in time and experience the world of Ancient Egypt with Ancient Script?
And who knows, maybe in the midst of a victorious and lucky game, you may come face-to-face with Cleopatra herself – or at least awaken your inner adventurer and treasure hunter (or both!). Either way, this game is bound to take you on a thrilling ride into the world of Ancient Egypt.
Symbols Including Wild and Scatter
Get ready to explore the mysteries of Ancient Egypt with the casino slot game, Ancient Script. The game features a wide range of symbols that will take you back to the time of Pharaohs and pyramids. From Ankh crosses to Bastions, Pyramids to the Eye of Horus, every symbol adds to the overall appeal of the game.
But what makes this game even more exciting is the golden mask symbol. Not only does it have the ability to substitute other symbols, but it also acts as the scatter. So, keep your eyes peeled for this ancient artifact, as it brings with it the chance to increase your winnings.
Amidst all these symbols, the Eye of Horus is the most intriguing of them all. This lucrative symbol offers up to 400 coins to the lucky player. We all know the Eye of Horus symbolises protection, power and good health, and in this game, it could bring you more than just good fortune – it could bring you riches beyond your wildest dreams!
With Ancient Script, you're sure to experience an adventure of a lifetime in the land of the Pharaohs. And who knows, you may just come across a secret chamber filled with treasures beyond your imagination!
Special Features And Their Benefits
Ancient Script is not only visually stunning, but it also offers numerous special features that can help increase a player's chances of getting a big win. One of those features is the golden mask symbol, which can randomly trigger 8-12 free spins. Who doesn't love free stuff? And when those freebies give you the opportunity to earn some extra cash, it's even better!
Another special feature of Ancient Script is the crystal ball. It has the power to transform random symbols into lucky ones, and cover the entire reel generating extra wins. It's as if the crystal ball is sending a message to Lady Luck to pay you a visit. You may even feel like a wizard yourself when the crystal ball helps you win big.
By taking advantage of these special features, players can increase their winning potential. And honestly, who doesn't like to win? It's like finding some extra change in your pocket or hitting every green light on your way to work. It's a small victory, but it puts a smile on your face and makes your day a little bit brighter.
Gameplay and Likelihood of Winning
Ancient Script is like a wise old professor who knows his way around the ins and outs of the casino world. It's a classic slot game that brings an element of mystique to the gaming experience. The game's modern features only add to its alluring appeal, making gameplay more exciting and dynamic.
Now, before you get too hyped up and start daydreaming about the big bucks you're about to rake in, it's important to keep your expectations realistic. Like any other slot game, Ancient Script is based on the luck of the draw. The likelihood of winning big is dependent on a number of factors, some of which are beyond your control.
That being said, the game does offer an opportunity to increase your chances of success. By taking advantage of special features like the random appearance of a symbol on the pedestal to the right of the grid, players can add an element of suspense to the gameplay while potentially boosting their winnings.
But let's be real – we all know that sometimes luck just isn't on our side. Don't get discouraged if you don't strike it rich right away. Remember, the journey is just as important as the destination. And with Ancient Script as your guide, the journey is sure to be an adventure.
Graphics And Theme
The graphics in Ancient Script are as gorgeous as a sizzling summer day in the majestic land of Egypt. The color palette of this slot game is an absolute delight to look at. You'll find yourself mesmerized with palace and palm trees that create the alluring background. It almost feels like you're walking through the Desert of Sahara, looking at those palm trees, creating a mirage of an oasis.
The Egyptian theme of Ancient Script is as authentic as it gets. The symbols such as Ankh crosses, Bastions, Pyramids, and the Eye of Horus are beautifully crafted and add to the overall charm of this slot game. It's almost like the symbols have a life of their own, and you're just fortunate enough to witness them. The theme and graphics of Ancient Script work together tremendously to create an immersive gaming experience that will take you on an adventure like none other.
In summary, think of Ancient Script as the Egyptian version of Disneyland, a place full of magic and wonder. The graphics and theme work together to create an experience, and if you're lucky enough, you might just hit the jackpot and find yourself as wealthy as Cleopatra herself.
FAQ
What is Ancient Script?
Ancient Script is an Egyptian themed online slot game featuring 5 reels and 10 paylines with modern features including free spins and a crystal ball that turns random symbols into winning ones.
What special features does Ancient Script have?
Ancient Script has a crystal ball that can turn random symbols into winning ones, and a golden mask that acts as both a wild and scatter to trigger free spins with 8-12 spins awarded randomly.
What is the most lucrative symbol in Ancient Script?
The Eye of Horus symbol is the most lucrative in Ancient Script, offering up to 400 coins.
What is the small pedestal to the right of the grid in Ancient Script?
The small pedestal to the right of the grid in Ancient Script randomly selects a symbol, which may become the focus of a winning combination.
Are big wins common in Ancient Script?
Big wins may be elusive in Ancient Script, but taking advantage of its special features may increase the odds of success.
Is Ancient Script suitable for beginners?
Ancient Script may be more suitable for experienced gamblers due to its classic structure and modern features.
What are the graphics like in Ancient Script?
The graphics in Ancient Script are traditional with a gorgeous palace and palm trees in the background. Symbols include Ankh crosses, Bastions, Pyramids, the Eye of Horus and more.
Can the crystal ball generate extra wins in Ancient Script?
Yes, the crystal ball in Ancient Script turns random symbols into lucky ones, filling an entire reel and generating extra wins.
What we like
Egyptian theme with traditional graphics
Special features for increased odds of success
Immersive and exciting gameplay
Random symbol appearances for added excitement
What we don't like