Play Slots
A lot of people enjoy playing slots for free using play money. This allows them to learn the ropes before committing to real money. Of course, playing free slots online is also highly entertaining and you can do it from almost anywhere using your mobile device. If you want to play slots online for free or for real money, then you are at the right place.
Slot library summary
| Slots available | Top providers | Available at | Game type |
| --- | --- | --- | --- |
| 2280+ | | | Free play |
Our slot library - all free to play!
★★★★★
2764 votes
Slotjava features over 2,000 video slots from dozens of the world's top software providers like NetEnt, Microgaming, Play'n Go, and Novomatic. These games come with a wide range of exciting features like sticky wilds, bonus symbols, and mini-games. You can also choose from a variety of themes such as Ancient Egypt, music, gems, and pop culture. If you prefer to play slot machines online for real money, our reviews will help you find the best slot sites as well as some valuable bonuses.
How to Play Slots Online
You can play online slots right now using your PC or mobile device. Simply open your browser, go to Slotjava, and follow these steps. You can also play Free slots!
Hit the "Free Slots" tab at the top of Slotjava's main page.
Select the game you want to play. Slotjava offers an array of filters to help you narrow your search. You can also use the search bar to find a specific game.
Click or tap on the game you want to play and select the "Play Now" button.
The game will load within seconds right in your browser.
Start playing.
When you are ready to play slots online for real money, check out our casino reviews to find the best site to play at. Don't forget to claim your slot bonus.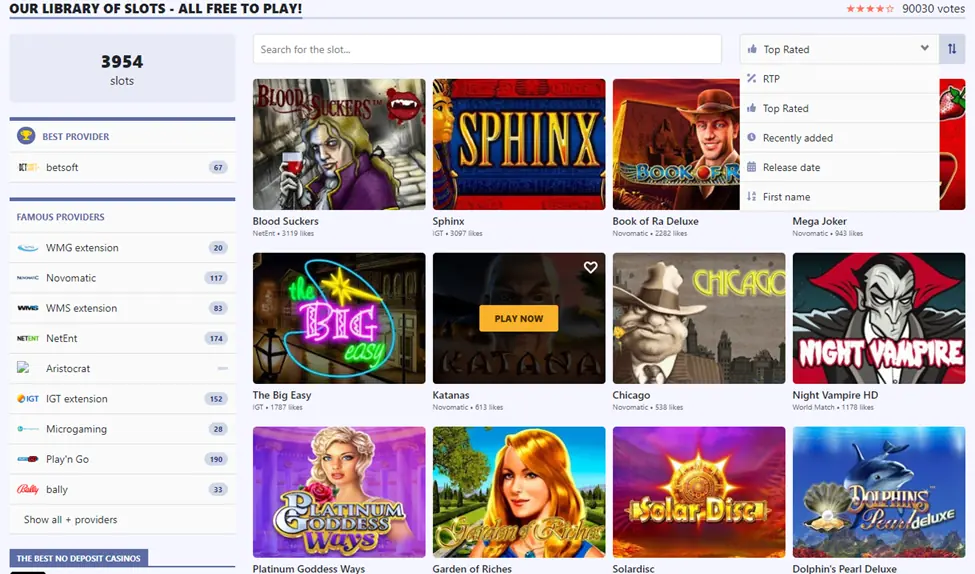 Slotpedia – Everything About Slots
If you are new to the thrilling world of online slots, then you need to be familiarized with a few concepts that pertain to slot machines, and here is how our Slotpedia can help!.
Slots History: The first slot machines were introduced in the late 1800s. Those early models were more like modern video poker games. The first video slots were released in 1976.Then, in the mid-1990s, Microgaming released the first online slot machine.
Slot Game Types: There are many categories of slot games. When you play online casino slots, you can play fixed-jackpot games or progressive jackpot games. Some classic machines have three reels and one payline while modern video slots can 5, 7, or more reels and hundreds of payline. You'll find that some machines offer a high RTP and others offer a low RTP. Of course, modern slots have a wide range of features and a variety of themes and narratives.
Paylines & Ways to Win: Early slot machine models usually had three reels. To win, you needed to land identical symbols across a single line. When you play slot machines online these days, the games are often played on a 5X3 or 5X5 grid. This drastically increases the number of available paylines. For instance, many Megaways slots give players up to 117,649 ways to win.
Features and Mechanics: Slot machines are evolving at breakneck speed thanks to innovative mechanics and special features. For instance, IGT has developed a fun mechanic called "Wild Stays. Charges Then Pays". Over your first nine spins, the space where any wild lands will be framed in a yellowish halo. Then, on the tenth spin, all highlighted spaces are automatically filled with wild symbols which gives you a shot at winning big. Expanding wilds, scatters, and bonus symbols are also among the many features you'll encounter when you play slots online.
Reels, Symbols, and Themes: Each slot game has a theme. It could be a sports theme, music theme, horror theme, or anything else. The theme is typically reflected in the symbols that appear on the reels. For instance, if you play the horror-themed Blood Suckers slot, the symbols include vampires, garlic, and other related imagery.
As mentioned, these games can have five or more reels which increases the number of winning combinations and paylines. With some games, you might have a dozen symbols on a single reel while other games can have a couple of hundred symbols on each reel.
Slotjava's "Find My Slot" Feature: You might not have a particular slot title in mind, but you may be looking for certain features, a minimum number of paylines, or a specific theme. You can use the Find My Slot feature to quickly find games that meet your desired criteria.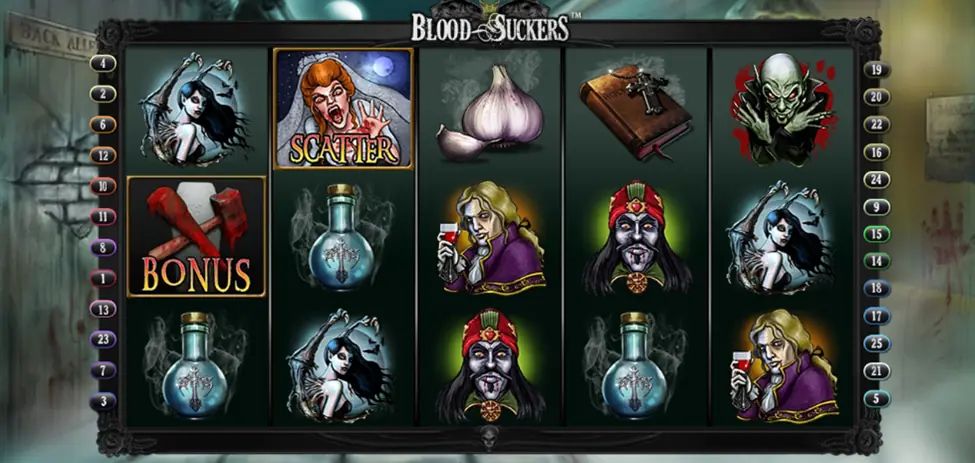 Types of Online Slots
Let's go over some of the most popular types of online slots.
Real Money Slots: Real money slots are simply slot games that payout cash prizes. When you play slots online for real money or using free spins, your winnings are paid as real currency and not play money.
No Deposit Slots: Many online casinos offer no-deposit free spins bonuses when you open a new account. You can use these free spins to play online casino slots for real money.
New Slots: Because there are so many talented software developers out there, new slots are being released on a near-daily basis. You can use the filters at Slotjava to play the very latest releases.
Free Slots: You can hit the Free Slots tab at the top of Slotjava's main page to access 4,000 free slot games that you can play using play money. This is the ideal option for those who want to learn how to play online casino slots or just enjoy a bit of the thrilling slots action without risking money.
Mobile Slots: Modern slot games are created using HTML5 which allows players to play slots online in instant play mode right in their browser. There's no need to download any apps or casino clients. Simply open your browser, find the slot game you want to play, and it will load within seconds.
Jackpot Slots: Jackpot slots are popular because they tend to offer the biggest payouts. Some progressive jackpots can be worth more than $20 million.
How to Win a Jackpot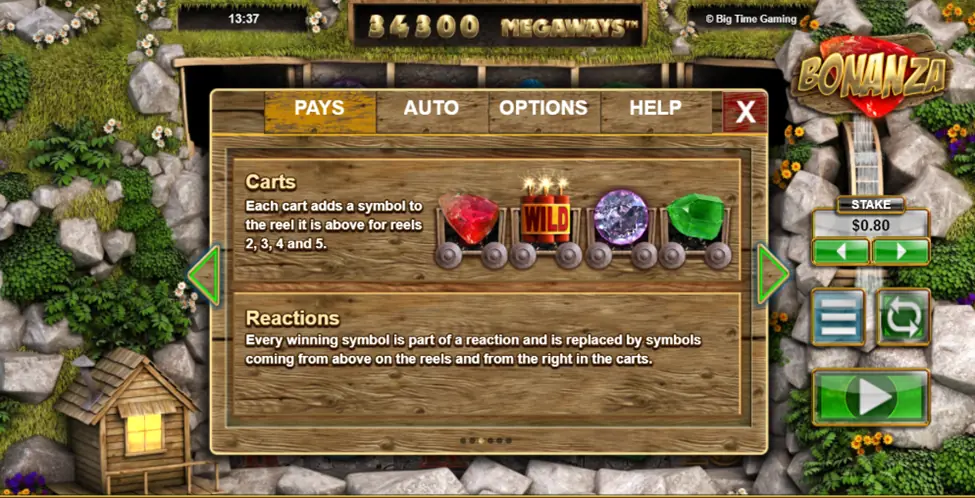 The most significant factor in winning a jackpot is luck. While jackpots are triggered differently from game to game, they almost always come as a result of landing a specific combination of symbols. Always be sure to check the pay table and instructions to find out how you can take down the jackpot for the game you are playing.
Other Casino Games and Slot Variations
The best online casinos don't only offer slots. They also offer a variety of other casino games such as blackjack, roulette, and Poker. Then there are games like, Slingo which combine slot games with bingo. Pachingo is another fun hybrid slot game that is becoming quite popular at online casinos.
Find out the tips and tricks of games like Book of Ra, Avalon, Cleopatra, or 88 Fortunes.
Frequently Asked Questions
Where can I play online casino slots for free?
You can play 4,000 slots for free at Slotjava. Hit the "Free Slots" tab at the top of the page, find the slot you want to try, and start playing it right in your browser.
What is the best online casino to play slot machines online for real money?
The best online casino is the one that suits all of your needs. If you are looking for a reputable real money slot site to play at, be sure to check out our expert casino reviews. Our unbiased reviews will help you find the ideal site.
Can I play slots online on my mobile device?
You can play any of our slots for free on your mobile device. As long as you are connected to the web, you can open your browser, go to Slotjava, and instantly launch the game you want to play.
What are expanding wilds?
Expanding wilds are one of the many features you can find when you play slots online. When you land one, it will expand into other spaces on the grid essentially giving you multiple wilds. This increases your chances of winning.
Can I win real money playing slots without having to use my own money?
Yes. Many online casinos offer no-deposit bonuses that you can use to play real money slots. You can find such a bonus right now by going to our No Deposit Bonuses section.
How much money can I win when I play online casino slots?
Assuming you are playing real money games, you can win a few pennies, or you could win millions of dollars. Some of the biggest progressive jackpots have been worth over $20 million.